Space is the unique defining element of Dutch football.

-David Winner, Brilliant Orange


If this book were just about the way Dutch teams--especially Ajax and the national team--played soccer in a discrete time period, it would be marginally interesting. But the fact that the greatest player of that era, Johann Cruyff, made the best team of this era--Barcelona and consequently the Spanish national team--in the image of those Dutch teams means that it remains an extremely useful text for understanding the game as it is played at the highest levels today. Perhaps the easiest way to explain the main premise of this great essay extended into a good book is with two images from artists Mr. Winner draws upon:

One from the Baroque painter Pieter Jansz. Saenredam

:
And one from contemporary photographer Hans Van Der Meer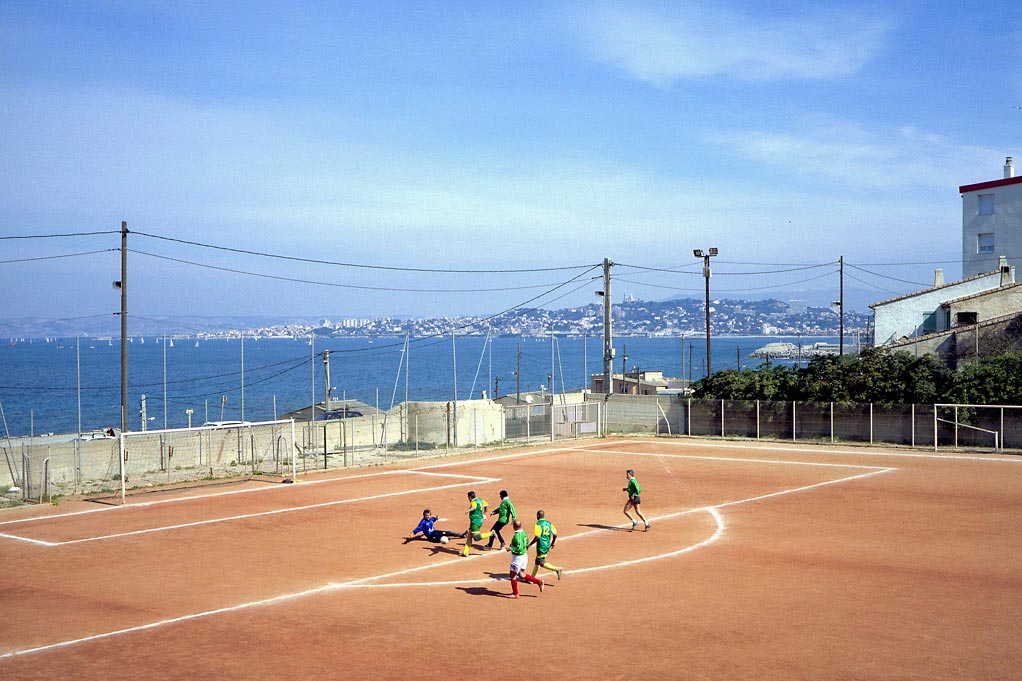 What these two images--distant in time--have in common is that while ostensibly of a church and a soccer game they are, instead, surreptitious depictions of open space. We celebrate Dutch art primarily in the form of portraiture, but the people in these pictures are incidental.

It is Mr. Winner's compelling assertion that Dutch culture has primarily been shaped by the physical contours of a land mass largely reclaimed from the sea, which features wide open flats punctuated by sudden rises of man-made physical structures. As in the pictures above, it is the space surrounding them that created Dutchness. And, in turn, the great innovations of Dutch soccer trace to their insights about utilizing the spaces of the field.

The Total Football concepts that they created--or at least adopted and ruthlessly exploited as no one had previously--included spreading balls out wide--into areas of the field that are less well-defended than the middle--which pulled apart defenses--creating openings in the middle of the field--both of which had the effect of giving their own players more room in which to operate. On the other side of the coin, they pressed high up field with their defenders in order to reduce the amount of space in which their opponents could function. The combination and the frequent passing and sense of fluid motion that these strategies create made them much beloved and--like Barcelona today--made even folks who don't root for the teams appreciate the stylishness of their play. As an ethos about the game, it holds that aesthetically pleasing play is more important than winning.

While the book is somewhat disjointed, sometimes self-contradictory, and would benefit from far more illustrations, it is a terrific read on both the game and on the Dutch people. But perhaps the greatest shortcoming of the book is the failure to explore why the Dutch and those who follow the tenets of total football, didn't/don't make better use of the most important space in the game--the air.

The ideal goal in total football gets walked into the net, because of sharp passing on the ground. It is not the product of a great shot, never a mere rebound, and, definitively, not headed in. But if the Dutch genius is to utilize the space you are given, then the focus really ought to be on headers. Consider first of all that the Dutch are the world's tallest people--the primary space that they occupy and could exploit is above the rest of our heads. One of the first things you teach a big man in basketball is that when he catches the ball he should keep it aloft. As soon as he brings it down he effectively makes smaller players his equal and gives away his natural advantage. Likewise, Peter Crouch's forehead is a foot higher than Jermaine Defoe's, but their feet rest at the same level.

Consider also that when two teams are in front of one's goal there are 42 feet on the ground, but only 21 heads in the air. There is just more room up there. And the path of a ball sent in from the wings in search of a teammate will therefore have an unobstructed path through the air but must thread through the thicket of legs on the ground.

Next consider that when you press up field defensively you leave acres of space behind you, inviting the counterattack, all the more effective if you've thrown your fullbacks forward on attack. Compacting one end of the field necessarily expands the other. And once your central defenders are facing their own goal and racing back to it you're in trouble.

Moreover, the style you play determines what type of players you have on the field. Eschewing headers means you don't have big men up front and emphasizing mobility at the back may mean you don't have big men in defense either. Barcelona and Spain have recently pushed the theories of their game so far to the extreme that they don't even play with strikers sometimes. After all, why play a guy in front of goal if you aren't interested in getting the ball to him anyway?

The result of all this and of the vulnerabilities that the style imposes were most glaringly exposed by Jose Mourinho in the Champion' League semi-final between his Inter Milan and Barcelona several years ago. Inter won the second leg despite having possession of the ball for just 16% of the game. Barcelona enjoyed possession for possession sake, but lost track of the fact that the point of the game is to score and win. Against a side that packed in its defense in front of the goal--parking the bus, as it's called--Barcelona could hold the ball but could do nothing constructive with it. And because its personnel are chosen on the basis of one style, it had no Plan B to resort to when possession failed to produce chances.

The great tactical writer, Jonathan Wilson, told the following anecdote in his story about that game:


What Inter showed last week, is that there are specific cases in which a radical disregard for possession can succeed. At Milan, Arrigo Sacchi got fed up of players moaning about his obsession with team shape, and so proved its worth with a simple drill. "I convinced [Ruud] Gullit and [Marco] Van Basten by telling them that five organised players would beat 10 disorganised ones," he said. "And I proved it to them. I took five players: Giovanni Galli in goal, [Mauro] Tassotti, [Paolo] Maldini, [Alesandro] Costacurta and [Franco] Baresi. They had 10 players: Gullit, Van Basten, [Frank] Rijkaard, [Pietro Paolo] Virdis, [Alberigo] Evani, [Carlo] Ancelotti, [Angelo] Colombo, [Roberto] Donadoni, [Christian] Lantignotti and [Graziano] Mannari. They had 15 minutes to score against my five players, the only rule was that if we won possession or they lost the ball, they had to start over from 10 metres inside their own half. I did this all the time and they never scored. Not once."
The bizarre thing is that while this sort of strategy is just as much driven by an appreciation of spatial relationships and requires enormous tactical discipline it is dismissed as cynical or as anti-football. It is moaned that such play allows "inferior" teams to beat "superior" ones. Might it not be fairer to say that practitioners of the Dutch style have simply misunderstood spatial realities rather than having mastered them?
(Reviewed:)
Grade: (A)
Tweet
Websites:
David Winner Links:
-WIKIPEDIA: David Winner
-BOOK SITE: Brilliant Orange
(Overlook Press)
-GOOGLE BOOK: Brilliant Orange
-AUTHOR PAGE: David Winner
(The Guardian)
-ARCHIVES: David Winner
(NY Times Goal Blog)
-PROFILE: Wayne Rooney
: Beautiful game. Beautiful mind. (David Winner, May 16, 2012, ESPN The Magazine)
-ESSAY: Feeling guilty about supporting Bayern Munich against Chelsea? Don't be
(David Winner, May 17, 2012, The Jewish Chronicle)
-DISCUSSION: Edwin van der Sar
: DID SOCCER LOSE ITS BRIGHTEST STAR? (David Winner & Simon Kuiper, Aslk Men)
-ESSAY: Barcelona and the gospel of Guardiola
: The outgoing Barcelona coach's vision of football has uncanny parallels with early Christianity (David Winner, 29 April 2012, The Guardian)
-ESSAY: The Dutch and the Germans Make Peace, For Now
(David Winner, JULY 6 2010, Vanity Fair)
-PROFILE: Edwin van der Sar
(David Winner, 5/27/11, Financial Times)
-ESSAY: Holland's new football reflects a nation's changes
: Pragmatism, not the beauty of the Cruyff years, is at the heart of the Dutch team (David Winner, 10 July 2010, The Observer)
-ESSAY: Arsenal are the sole true heirs to Cruyff's glorious vision
: The face-off between Wenger's purists and the Dutch pragmatists sees two teams battle incarnations of their old selves (David Winner, 3/10/07, The Guardian)
-ESSAY: World Cup final: after years being Total losers, Holland are entitled to win ugly
: Winning ugly: Holland have not been afraid to demonstrate their physical side during the 2010 World Cup (David Winner, 10 Jul 2010, Telegraph)
-INTERVIEW: David Winner Interview
(Sean O'Conor, Soccerphile)
-BOOK LIST: FiveBooks Interviews : Simon Kuper on Best Football Books in English
(The Browser)
-REVIEW: of Brilliant Orange
(D. Adelman, Football this Weekend)
-REVIEW: of Brilliant Orange
(Timothy Dugdale, Metro Times)
-REVIEW: of Brilliant Orange
(Dili Yang, Hot Time in the Old Town)
-REVIEW: of Brilliant Orange
(Amanda Vandervort, Soccer Science)
-REVIEW: of Brilliant Orange
(sk, Brown.edu)
-REVIEW: of Brilliant Orange
(MOHAMED MOALLIM, World Football Columns)
-REVIEW: of Brilliant Orange
(Ian Clarke, Red Nation Online)
-REVIEW: of Brilliant Orange
(Footy Matters)
-REVIEW: of Brilliant Orange
(In for the Hat Trick)
-REVIEW: of Brilliant Orange
(Lucent Web Design)
-REVIEW: of Brilliant Orange
(Richard Foister, Incindiary)
-REVIEW: of Brilliant Orange
(Michael S. Hund, Fullback Files)
-REVIEW: of Brilliant Orange
(Hopeful Longball)
-REVIEW: of Brilliant Orange
(Eriveden, Visual Art Research)
-REVIEW: of Brilliant Orange
(Ross Langer)
-REVIEW: of Those Feet: An Intimate History of English Football by David Winner
(Nicholas Lezard, The Guardian)
-REVIEW: of Those Feet
(Will Buckley, The Observer)
-REVIEW: of Those Feet
(Chris Maume, The Independent)
-REVIEW: of Those Feet
(Harry Pearson, When Saturday Comes)
-REVIEW: of Al Dente: Madness, Beauty and the Food of Rome by David Winner
(Pen Vogler, The Guardian)
-REVIEW: of Al Dente
(Tom Fort, Telegraph)
-REVIEW: of Al Dente
(Christopher Hirst, The Independent)
Book-related and General Links:
-ESSAY: Life, Death, and Total Football
: My Dutch friend Lars taught me to appreciate the most radical team in World Cup history—and how their tactics could be meaningful far beyond the pitch. (ROSECRANS BALDWIN, November 29, 2022, Esquire)
-ESSAY: They're 'world champions' of banishing water. Now, the Dutch need to keep it.
(Raymond Zhong, 10/11/22, New York Times)


Copyright 1998-2015 Orrin Judd